Event #1: 25,000 GG Super Millions Live
Posted on: March 7, 2023 4:24 pm EST
Webster Lim goes wire-to-wire to claim second Triton title in GG Super Millions Live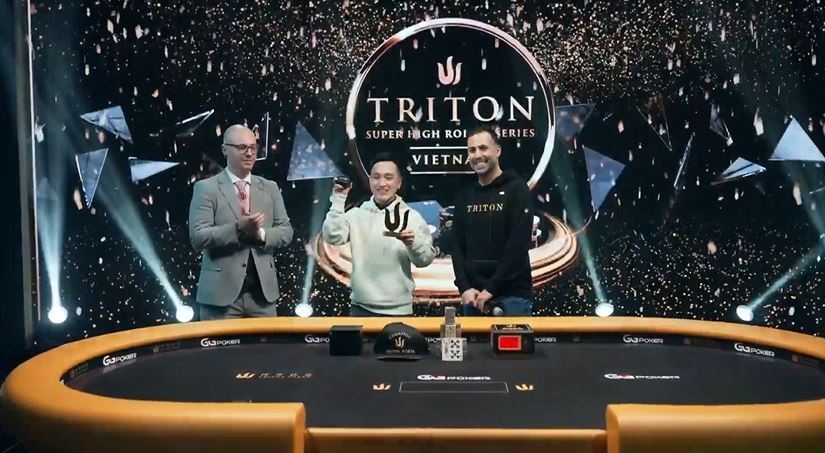 Webster Lim, Event 1 Winner
The opening event at Triton Vietnam is officially in the books on Day 2.
Webster Lim topped a field of 165 entries and takes home the bulk of the 4,150,000 prize pool.
The Malaysian poker player earned himself 965,000, a gorgeous Triton Poker trophy and a Shambala bracelet.
This is Lim's second Triton title for a total of 4.4 million in Triton cashes across 9 different results.
Heads-up play was hard fought but in the end it was a failed bluff from Roman Hrabec that tipped the scales. Lim did manage to hold on to his chip lead for the entire final table and made his way past some of the best players in the world.
"I don't think I lost an all in. It was just really smooth, but overall it was really tough. I feel like my brain is out of juice right now," laughed Lim.
Commentator Ali Nejad asked Lim about what the late Ivan Leow meant to him as part of the Triton family.
An emotional Lim said: "All my close friends know me and his relationship, like without him I wouldn't be here in Triton. So I just wanna say, this win is for him. This is for you, Ivan. I miss you."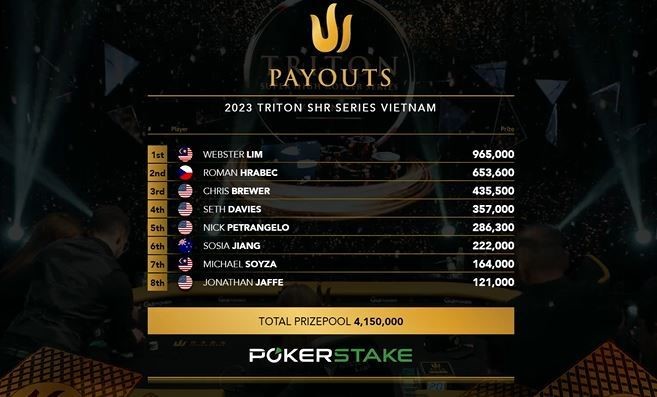 The path to the final table
The day began with just 32 players and 8th place finisher Jonathan Jaffe came in to the day as the chip leader.
Poker pros Justin Saliba and Stephen Chidwick were among the early eliminations on the way to the money bubble.
Eventually Calvin Lee was eliminated by Lisawad Pakinai on the bubble after his king-high was unable to hold against queen high.
With 23 players in the money and guaranteed 48,200, the race to the final table was on.
Daniel Smiljkovic's fairytale spin-up from 8 big blinds on Day 1 came to a screeching halt after he was unable to win a flip, and Chris Brewer ran hot when it mattered to vault himself into the top five.
Nick Petrangelo was down to just 2 big blinds with 16 players left but won hand after hand to go from 220,000 to over 4 million at one point.
A stacked final table dissolved quickly
Jonathan Jaffe was the first to go in 8th place after running jacks into Seth Davies' kings. He was followed out the door soon after by Michael Soyza in 7th place after he was pipped with ace-jack of spades against Petrangelo's ace-queen of clubs.
Sosia Jiang was the next to go after her ace-five of diamonds flopped top pair, but Lim rivered two pair to end her deep run in 6th place.
Petrangelo faced a raise from the aggressive chip leader and opted to commit his stack with ace-nine suited. Unfortunately Lim was simply unstoppable and his pocket jacks held on to eliminate Petrangelo in 5th place.
Hrabec ran a big triple barrel bluff against Davies with just nine high and got him to fold two pair. In the very next hand Brewer's pocket eights obliterated Davies' pocket nines and he was our 4th place finisher.
Brewer ran well and played even better until he went for a big bluff with five high. Lim wasn't folding trip aces though and 3rd place was locked up by Brewer.
That brought Hrabec and Lim heads up and a winner was crowned.